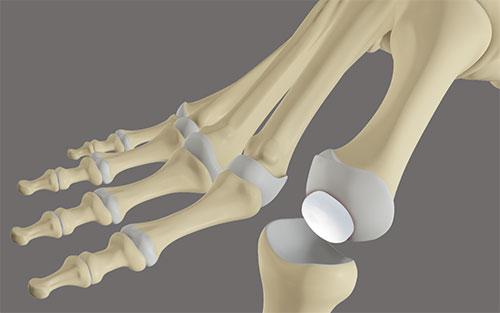 The arthritis of the first metatarso-phalangeal (I MTPJ) is called Hallux Rigidus. 1 in 40 patients would suffer this condition after the age of 50. The causes could be osteoarthritis, trauma or inflammatory arthritis. The condition could lead to significant pain and disability.
Once the non-operative treatment including rest, orthotics and analgesics, is exhausted the surgical options should be considered.
The surgical options include synovectomy, cheilectomy (excision of the osteophytes), arthrodesis (fusion surgery) or joint replacement surgery.
In the grade I arthritis (mild) usually synovectomy and cheilectomy are reasonable options. Arthrodesis has been a gold standard for the grade II to IV arthritis (moderate to severe) as the joint replacement surgery, traditionally, had poor outcomes.
Recently, a Cartilage Replacement Implant has changed the course of the management of the moderate to severe arthritis. The implant is approved by FDA. The implant is made up of PolyVinyl Alcohol (PVA) and has similar consistency as cartilage. There is a number of publications support the safety and benefits of the cartilage replacement implant.
Notably, in a Prospective Multicentric Randomized Controlled Trial 1 conducted in Canada and the UK comparing the cartilage replacement implant to the arthrodesis has shown promising results in terms of pain, function and durability with the use of the Cartilage Replacement Implant. In a small group of patients (11-12%) a revision surgery is required. The revision surgery is conversion into a fusion.
The mid-term results show no significant major wear related or failure of the prosthesis.
Suitable candidate for the Cartilage Replacement Implants should have-
Failed non-operative management
No Hallux Varus (deformity of the big toe
No Hallux Vulgus more than 20°( deformity of the big toe)
No cystic changes more than 1 cm
No progressive arthritis
No active infection
There is sufficient evidence that the surgical time, recovery time and getting back into routine is statistically faster in the Cartilage Replacement Implant group. The patients are allowed to walk full weigh bearing immediately and start using normal shoes at 1-month time.
Thus, in a suitable patient the Cartilage Replacement Implant can be an attractive alternative. It relives the pain, improves the functions, preserve the range of motion with durability.
1.Baumhauer JF, Singh D, Glazebrook M, et al. Prospective, Randomized, Multi-centered Clinical Trial Assessing Safety and Efficacy of a Synthetic Cartilage Implant Versus First Metatarsophalangeal Arthrodesis in Advanced Hallux Rigidus. Foot Ankle Int. 2016;37(5):457-469