Lisfranc Injury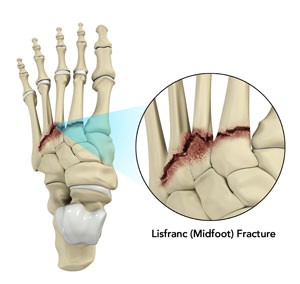 What is Lisfranc Joint?
The Lisfranc joint is the joint between medial cuneiform and II metatarsal bone. It form an important component of the medial arch of the foot.
What is Lisfranc Injury?
The Lisfranc injury is a fracture and dislocation/ subluxation of the Lisfranc joint. It is usually associated with instability of the other joints of the midfoot ( I to V tarso-metatarsal joints) depending upon the severity of the injury.
What are the Types of Ankle Arthritis?
There are two main types of Lisfranc injury.
Purely Ligamentous type – In this type of injury there is no fracture. The injury predominantly involves the ligament complex of the Lisfranc and adjacent tarso-metatarsal joints.
Bony Lisfranc – In this type there is usually associated fractures of the tarsal or metatarsal bones.
How does the Lisfranc Injury occur?
The Lisfranc injury occurs due to a twisting or crushing injury to the midfoot. It is usually associated with soft tissue injury and swelling.
What are the Symptoms of Acute Lisfranc Injury?
Symptoms of acute Lisfranc injury include pain or tenderness, swelling, stiffness in the joint and limited range of motion.
How is Lisfranc Injury Diagnosed?
The diagnosis is made with a history of trauma, physical examination and X-rays of the affected joint. Classical widening of the Lisfranc joint is a sufficient to establish a diagnosis along with a classical clinical finding. A computed tomography (CT) scans and magnetic resonance imaging (MRI) scans may be necessary if the diagnosis is in doubt.
What is the prognosis of Lisfranc Injury?
Unfortunately, a lot of Lisfranc injuries get missed due to a very subtle changes in the plain x-rays and they are often reported normal.
If the injury is not addressed properly, it leads to significant instability of the midfoot. This instability progress to wear and tear of the cartilage, collapse of the arch and change in the biomechanics of the foot and ultimately osteoarthritis. This leads to significant pain, instability and pain.
What are the Treatment Options for Lisfranc Injury?
There is very limited role of the nonoperative treatment options for the Lisfranc Injury. The nonoperative treatment include immobilization in a plaster cast or a boot. The indication for the non-operative management includes stable Lisfranc and paediatric patients.
The surgical management is indicated in almost all types of Lisfranc Injuries those associated with instability. Usually surgery is delayed until the swelling comes down.
The surgery can be done my minimal invasive method with screw fixation. The minimal invasive surgical technique only requires 2-3-millimetre incisions. Some fracture patterns require conventional incision if they are associated with fractures and requires surgery. The screws are typically removed at the 10 weeks mark
---
Related Topics